| | | | |
| --- | --- | --- | --- |
| | USA FINA GRAND Prix | | |
Fort Lauderdale vs. Sydney
---
If you have not got your tickets for the Sydney 2000 Olympic Games, here's the next best thing.  The USA /FINA Grand Prix is the last major event before the Olympics.  The world's best divers and coaches will be there.  See current and future gold medallists compete.  See the Russians Chinese Americans and many more. Several countries will be using this event for their Olympic Trials.  The Fort Lauderdale Hall of Fame Pool offers an intimate setting where you can be close to the competition and have excellent seating (comparable seating at the Olympics would cost thousands of dollars).
For divers and coaches, all the practice sessions are open.  It is a great chance to watch, learn and videotape the world's best divers as they peak in an Olympic year.  It's a great experience for an age group team.
USAdiving.com has done all the work for you and your team.  We have reserved a block of rooms at the Bahia Cabana (954-524-1555) When booking rooms, ask for the USAdiving.com rate. We have also set up some discount airfares contact Claudette (732-224-0600) .  When booking rooms, ask for the USAdiving.com rate. When making plane reservations, ask for and the USAdiving.com discount rate to Fort Lauderdale.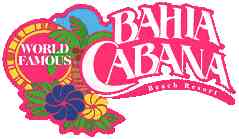 The Bahia Cabana is across the street from the beach and a 5-minute walk to the Hall of Fame pool.  If you are coming down as an individual, all you need to do is take a taxi from the airport ($14.00), and with everything you need within walking distance, there is no need rent a car.  The Bahia Cabana offers a great dockside restaurant/bar, large Jacuzzi, and you can even see the 10-meter tower from the dock. 
USAdiving.com encourages coaches to bring their teams down to watch this pre Olympic event.  It's a great chance for teams to see the world's best divers in practice and in competition, and when you've had enough of diving – there's the beach.  You may even catch yourself on TV as the event will be televised by FOX Sports network two weeks after the competition.
| | | | |
| --- | --- | --- | --- |
| | FINA Grand Prix | 2000 Olympics, Sydney | |
| Olympic Divers | Yes | Yes | |
| Plane Fare | Less than $400.00 | More than $2200.00 | $1600 |
| Housing | $70/night/four people | $400/night, if you can get it | $990 |
| Plane Ride | No more than 4 hours | No less than 20 hours | |
| Event Admission | $30.00 | $100-1000.00 | $800 |
| Event Seating | Up close and personal | Nosebleeds | |
| Beach | 100 yards | 24 km | |
| Sunshine | Yes | Maybe, it's early spring there | Tan |
| Food | Anything you want | Vegemite | |
| Memories |  Cheap and convenient | Expensive and crowded | |
| | | Money Saved | $3390 |
With the money you save you could buy a new diving board for your pool.  Bring your whole team and you could get all new equipment for your pool.