Gateway Cup International, June 15-17, 2001 Results
Schavone Kisses the Cup!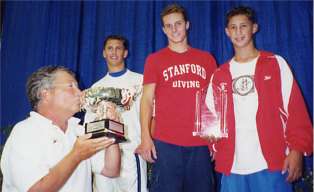 Doug Beavers and the St Peters Rec-Plex in St Peters Missouri was host to an innovative competition that could, over the next several years, alter the direction of Senior Diving in the US. The Gateway Cup International Meet was held June 15-17, and included the Etobicoke Diving Club (Montreal, Canada), The Woodlands Diving Team (Houston, Texas), Stanford Diving (Stanford, California) North Shore Diving (Chicago, Illinois), US Elite Diving Academy (Columbus, Ohio) Schroeder Dive Team (Brown Deer, Wisconsin), and the Lightning Diving Team (St Peters, Missouri)
The Team Award went to Rick Schavone and the Stanford Team, beating out the home team of Lightning Diving by 100 points. As is the tradition at the Gateway Cup, Schavone savored the victory by planting a big wet kiss on the Cup, a stay-at-home trophy that is engraved with each year's champion. The Cup remains on display year round at the Rec-Plex, while Schavone got a smaller version to take home with him.
But what really made the meet different? First and foremost was Rob Siracusano's Diving for Dollars Event. Diving for Dollars followed US Senior Rules with a few major exceptions. Most notably were the "Bonus Dives." All entrants were given a list of high DD dives that would be eligible for bonus points. For example, if a female contestant performs a 107B on 3M and keeps three judges awards of 5 or higher, she gets 20 bonus points toward her final score. Bonus points are instituted to encourage the use of the more difficult dives. To add to the incentive these Open Events offered the top four male and female divers travel stipends worth up to $1500.
Concern for eligibility is solved by allowing the divers the option of having their winnings held in an escrow account which would be paid out to them upon college graduation. How did we arrange all of this? It helps to have Rob Siracusano, a Financial Advisor for Paine Webber, backing the event. While some of the winners elected not to take the money until everything could be officially cleared through their Compliance Officers, they were all encouraged to work with Rob to maintain eligibility and have the money waiting for them at the end of their college careers.
In addition Rob gave a very informative seminar on fundraising for athletes on Saturday night. Rob described his strategies for gaining over $30,000 in sponsorship in 1996, while a member of the US National Team.
While we would have liked to have more Senior Divers for the Event (Especially you GUYS!), Diving for Dollars appears to be a concept whose time has come. Picture this: 5 meets spread across the country over the season, each with a total purse of $20,000 or more. Each meet is formatted to reward the successful use of higher DD dives with cash awards. The cash awards are distributed in such a way as not to endanger the eligibility of our NCAA athletes. All of our top men and women would attend these meets, offering post-collegiate athletes a way to pay the rent and continue to dive. This is only the beginning, and it is thanks to the vision of former diver Rob Siracusano that this type of meet will become a reality. Kudos to you, Rob, for taking the ball and running with it.
Senior Divers and Coaches mark your calendars: The Diving for Dollars Event will be held June 14-16, 2002 at the St Peters Rec-Plex in St Peters Missouri. Total purse to be announced!  
Men:
1) Michael Oxman, Schroeder
2) Adam Peterson, Stanford
3) Matt Bisordi, Stanford
4) Burkely Showe, US Elite
5) David Heraly, Unattached
6) Landon Marzullo, US Elite
Women:
1) Kimiko Soldati, Woodlands
2) McKenze Murphy, Stanford
3) Kristi Wanner, Unattached
4) Ashley Rosenthal, Stanford
5) Lauren K., Etobicoke
6) Katura Perinchief, Etobicoke
7) Kelli Wind, Lightning
8) Kelci Bryant, Lightning
9) Sara Clark, Stanford
Note: Not all of the top four accepted stipends.