Product Review - The Stickler (Over All Review Score a 5 meter )
We all have divers who just can't keep their ankles together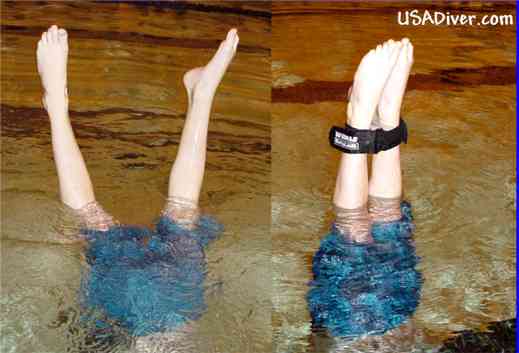 Product Review - The Stickler
We all have divers who just can't keep their ankles together, and here's a
product that really helps. This Stickler was developed by our gymnastic
cousins and it consists of two padded foam blocks with a velcro adhesive
strip which is attached to each ankle by an adjustable strap. I tried this
product with my own divers and the results were immediate. One young
divers who had trouble keeping his ankles and legs together during lineups
used the Stickler several times and instantly understood what it felt like
to keep them together. The result was an almost instant improvement in his
lineup.
The Stickler can also be used for other divers, and is great for divers
learning twisters. The diver can either do a back take-off or walk down
the board. When they leave the board and their legs come together; their
feet will be held together by the padded Velcro ankle wraps. If the
diver's feet come apart, the sound of the Velcro pulling apart is loud
enough to be heard by the diver so they know when and where in the twist
they "lost their feet"!
The Stickler is available at Springboards and More or your local gymnastics
distributor. Although I thought they were a bit pricey ($18.50 per pair),
they worked much better than and were much more convenient than anything
tried before (Sammy tied around the ankle; duck tape!). The Stickler also
seemed to hold up well, even when wet. My conclusion is that the Stickler
is well worth the money. Over All Review Score a "5 meter"
A close up