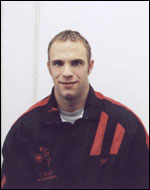 Olympic diver pulls woman from river
Tuesday, November 13, 2001
He has dived for Olympic glory, but those who saw Jeff Liberty's heroic rescue say his bravery deserves more than any gold medal. The 23-year-old Canadian diving champ dived Monday into the chilly waters of the Bow River to rescue a pregnant woman whose car had careered off Deerfoot Trail. The vehicle crashed through a fence and sped across the busy Lafarge off-leash area into the slow-flowing river.

With the green Cavalier slowly sinking beneath the surface, Liberty swam to the car, undid 22-year-old Shannon Roberts' seat-belt and pulled her through the window to safety. Liberty, a 16-year diving veteran who represented Canada at last year's Sydney Olympics, was immediately proclaimed a hero by emergency services and stunned bystanders.

"It was definitely a heroic effort. He was out there treading water and he pulls her out. It was a tremendous effort," said Capt. John Conley of the Calgary Fire Department. "She was a very lucky lady. For somebody like him (Liberty) to be there, and to have him do what he did, it's really amazing." Liberty played down his actions. Throwing sticks for his black Labrador just minutes after his daring rescue, he insisted he was no hero. His friends, however, joked that his dive into the Bow was "a perfect 10." "I'm just a guy who was here to help. I think anyone would have done the same thing. What I did was nothing special," Liberty said. "I'm not much of a swimmer anyway. I dive, then swim to the edge of the pool and that's about it."

Liberty said he didn't have time to think about what he was doing when he dived into the Bow. He was shocked to see Roberts' car veer off the Deerfoot, through a chain-link fence and across a 200-metre wide field before flying off a three-metre bank into the Bow. He ran to the river, stripping to his underwear as the car filled with water.

"I could see she wasn't moving, so I dove in and swam to the car. It was filling up pretty quickly. I tried opening the door, but it wouldn't open, so I undid the belt and pulled her out through the window," he said. "I pulled her to the bank and some people helped us from there. It was cold, I'm still cold, but as long as she is OK, then I don't mind." Roberts, a diabetic who is three months pregnant, is thought to have suffered a medical reaction while driving north on Deerfoot, just north of Southland Drive. Witnesses also suggested her car may have suffered a blown tire, causing her to lose control.

She was taken to Rockyview Hospital, where she was treated for mild hypothermia before being released Monday evening. Roberts' father, Ian Traquiar, rushed to the scene after hearing of his daughter's accident. He met with Liberty on the banks of the river, shaking his hand and thanking him for saving his daughter's life.

"I don't think I can say enough. There is nothing you can say. It was the luck of God. Without him, it would have been a different story," he said. "He is a hero, there is no question about that." After speaking with his daughter at the hospital, Traquiar said his family wants to thank the diving champ "from the bottom of our hearts." "Shannon told me that not only did he save one life, hers, he also saved that of her unborn child," he said. "I just can't say enough about him."
Liberty might not have won gold at last year's Olympics -- he finished a credible 19th in a field of 50 -- but he will be rewarded for Monday's dive. Capt. Conley said the fire department will honour Liberty's heroism.
"There is no doubt about it, he will definitely be recognized by the Calgary Fire Department," he said. "What he did -- that was pretty amazing."
More
Olympic diver saves woman from icy river

A Calgary Olympian is being hailed as a hero after he singlehandedly
rescued a pregnant woman from almost certain death as she sat trapped in her
car in the icy Bow River.
"It could have been a different story if someone like him wasn't around,"
Calgary Fire Department Capt. John Conley said of Jeff Liberty's efforts
yesterday afternoon.
Shannon Roberts, a 22-year-old pregnant, diabetic woman, was driving her
late-'90s Chevy Cavalier northbound on Deerfoot Tr. near the Southland Dr.
off-ramp about 12:45 p.m.
Officials believe Shannon either had a diabetic reaction or blew a tire. Her
car shot off the road about 500 metres from Southland Dr. into an off-leash
dog-walking area.
The car then shot off the ledge of the approximately nine-metre-high
embankment, straight into the river.
Liberty, a three-metre diver who represented Canada at the 2000 Summer
Olympics in Sydney, Australia, didn't even think about the situation -- he
swam out about four metres to the rapidly sinking car and began pounding on
the closed driver's window, signalling Shannon to open it.
The dazed woman was only able to partially comply before Liberty reached in,
rolled it the rest of the way down and undid her seat-belt.
"You could tell she was in shock, so I managed to get one of her arms out
the window and then her other arm out," he said. "Then I just pulled her out
through the window."
Liberty swam the woman to shore where other bystanders helped the woman onto
the bank.
Shannon had been alone, and paramedics treated her at the scene before
taking her to Rockyview Hospital.
She was last listed in stable condition, and the ordeal didn't seem to have
any ill effects on her pregnancy, her relieved dad, Ian Traquair, said.