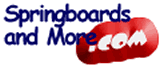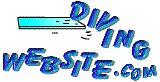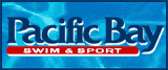 © 2000 -2002 USAdiver.com All Rights Reserved.

| | | | |
| --- | --- | --- | --- |
| | History of Olympic Diving | | |
| | |
| --- | --- |
| | Fancy diving had its origin as far back as the 17th century in connection with the great gymnastic movement in Germany and Sweden. In the summertime, gymnasts moved their equipment to the beaches, and acrobatics over the water became a part of their activities. Diving, then, is more related to gymnastics than to swimming. However, since swimming and diving both use a water medium, they are naturally linked. |
Platform diving (33 feet high) achieved international notice in the

1904 Olympic Games in St. Louis

when it was included as an event on the men's swimming program. Springboard diving was added for the 1908 Games in London. Women's diving was slower in being accepted. It was not until 1912 that plain high diving was included in the Olympics, and

1920 that the first women's springboard

contest was conducted. Fancy high diving for women came into being in 1928 internationally.
As could be expected, Germany and Sweden dominated the early competition. It wasn't until 1920 that the United States reached worldwide prominence in diving by winning three of the gold medals in the Olympics (men's and women's springboard and men's platform events). From that time through 1992, the United States has been the world leader in diving. The total count is 46 of 75 Olympic gold medals for the United States.

The women have been most important in the development of U.S. diving supremacy. Ernst Bransten, who is called the "father of diving in the United States," came to this country from Sweden shortly before the 1920s. Bransten brought with him a thorough knowledge of the fundamentals of the sport and some revolutionary ideas for developing divers. Among his many contributions was the construction of a "sand pit" -- a diving board mounted over sand. This apparatus allows the diver to practice many of the movement patterns of diving, especially the approach and takeoff, more efficiently.
Mike Peppe, the swimming and diving coach at Ohio State University from 1931 to 1963, did more to promote and develop diving in this country than any other man. By maintaining a strong squad of divers on his collegiate swimming teams and treating diving and swimming with equal importance, Peppe encouraged other schools to emphasize diving in order to compete with his teams evenly. Peppe's influence on college programs has resulted in improved facilities for diving, more practice time being made available, greater respect for the sport and the birth of a new type of coach -- the diving coach. It is for this reason that he might be designated "the father of collegiate diving in the United States."
Since 1904, diving has changed in leaps and bounds and is still progressing rapidly. In the early days there were 14 platform and 20 springboard dives. Today there are 63 dives on 1-meter springboard, 67 dives on 3-meter springboard and 85 dives on platform. Difficulty has changed from the point where a double somersault from the platform was dangerous in 1904, to flawless performance of the reverse three and a half somersaults today. It could be said we have just about reached a peak as far as the difficulty of the dives performed is concerned. However, since that statement was made by many people 25 years ago, it may be best to bide our time and see what the future brings to the sport.
Olympic Record Since diving was introduced to the Olympic Games, the United States has won 46 out of 75 gold medals and 125 of 225 total medals. This includes: 15 of 19 gold medals in men's 3-meter springboard and 11 of 17 in women's 3-meter springboard, 12 of 21 gold medals in men's platform and eight of 18 in women's platform.

The only divers to sweep gold medals at consecutive Olympics were U.S. divers: Greg Louganis (1984, 1988) and Pat McCormick (1952, 1956).

Based on a recent study of medals available versus medals won in all sports, the United States has enjoyed its greatest Olympic success in diving.

by Ron O'Brien, Ph.D. Eight-time U.S. Olympic team coach