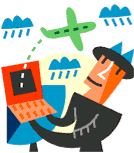 ---
A friend of mine decided to miss his cousin's wedding because the round-trip airfare to Paris was nearly $1,500. I suggested that he book a flight to Brussels on CityBird for $249, then take a train for $125 into Paris. Total cost $374.

This is called the "alternate city" strategy and it can save you a bundle, particularly if your whole family is traveling. Say you want to fly from Boise, Idaho to Miami, but the best available fare is $545 a person. For a family of four, that's nearly $2,200. But if you check some nearby destinations, you might find that you could fly to Fort Lauderdale or Tampa for just $300 a person. You're going to rent a car anyway, right? You've just saved $1,000.

The key to finding low-cost airfares is flexibility and know-how. Here's an arsenal of insider tips that can make the skies much friendlier:

Use insider language when you search for a flight
If you book directly through an airline, specifically ask for the lowest fare. If you don't you'll get a higher fare on the same flight, same seat. How is this possible? Tickets are classified by everything from restrictions on cancellation to numbers of days before flight time. A seat with more restrictions and a lower price is fine for the average pleasure or business traveler.

After you ask for the lowest fare, inquire if there are any promotions that day or coming up soon. Often there is one starting the next day. The agent may apply the promotional fare for you early, or hold your seat for 24 hours and officially book the flight the next day.

If you get cut out of a promotion, call again after 10 p.m. that night or first thing in the morning. Airlines often reinstate a promotion if it worked. If you miss a midnight deadline, call the airline in an earlier time zone or book on the Web.

Before you make the final booking, ask about deals for companion fares, seniors and students. And if the ultimate fare is higher than another quote, say so. A fare war may just be beginning and you'll get the lower rate.

Use the Web to shop for cheaper flights
Comparing fares used to be a full-time job. No more. Frequent travelers can learn about fare wars online, via e-mail or by fax.

Here are some places to start:
Expedia allows you to shop for the lowest airfare available. It also will send you rates by e-mail for any flights you regularly take or may be interested in.



You also can browse the Web to get information on thousands of fares.

American Airlines publishes NetSAAver. Every Wednesday, NetSAAver gives details of their best bargain fares. To sign up, look at the American Airlines' home page.

Continental has the C.O.O.L. program; TWA has its Transworld Specials; and USAir has Cybersavers.

Or try a real airfare auction. Cathay Pacific, the largest carrier to the Orient, offers a large number of seats to the highest bidder.
Links to more discount travel Web sites can be found in the left column.
Look for promotions
Special promotions are offered all the time by airlines, usually in concert with a credit card company or a retailer.

For instance, American Express routinely offers special discounts to cardholders with airlines such as Delta and Continental, where fares are discounted $100 or more. The deals get even more pronounced if you're taking the family. A recent deal allowed four people to fly round trip across the United States for less than $250 per person.

These hidden discounts are everywhere. In 1996, it's estimated that nearly $1 billion in discount certificates were offered. They can show up in junk mail, in special promotional packets like frequent diner coupons or through tie-ins with hotels and rental car companies.

Buy 'APEX'
If you book directly with an airline, plan ahead enough to get an APEX (Advance Purchase Excursion) fare. Buy your tickets seven, 14 or 21 days before the flight and stay over a Saturday. Tickets are nonrefundable, but can be exchanged for a $50 fee. On domestic flights, APEX costs about one-third or less than the regular fare. British Airlines and Virgin Atlantic shave an extra $100 off if you book 90 days or 45 days ahead respectively.

If you can't stay over a Saturday, it could pay to buy two, round-trip APEX fares, both with Saturday stay-over requirements and keep or resell the part you don't use.

Here's what I did to travel round trip to Los Angeles without a Saturday stay: I flew New York to Los Angeles on a flight with a Monday departure, returning the following Sunday. Cost: $289. I then purchased a similar ticket that originated from L.A. with a Friday departure that returned the following Thursday for the same $289. That way, I flew from New York to L.A. for $578 — a $276 saving over the best New York to Los Angeles fare quoted to me without a Saturday stay. Be aware: Airlines don't like this approach and they can assess you for the full fare if you're caught. The trick? Use two different airlines.

Book through consolidators
Consolidators are companies that buy blocks of tickets from airlines and resell them at a discount from 30% to 60%. The only catch is that you may not get frequent-flier miles and changing may be more restrictive. You can call directly or use a travel agent. Some airlines, such as Air France's Jet Vacations, have their own consolidators. (Aside from the low price, the flight may not require a Saturday stay.)

European Travel Network is a huge system of consolidators, discounters and bucket shops that can help with low-priced overseas trips. You can also try Discount Airfare Travel Agency.

If frequent-flier miles are important to you, choose a consolidator that gets paid by negotiating commissions with the airlines. On resale, consolidators retain only a fraction of that commission. They pass the rest of the commission on as a reduction in price.

In such cases, the actual retail price shows up on your ticket in the "fare" box. Such tickets often earn frequent-flyer mileage and can be upgraded with the use of a frequent-flyer award.

How much extra should you pay for a ticket that earns frequent-flyer mileage? A common rule of thumb is about two cents a mile. On a round trip from the East Coast to Europe, you'd earn about $140 worth of credit; from the West Coast to Hong Kong, twice as much.

There are several variations on the consolidator theme. Discount agencies buy from the consolidator and there is a markup for their service. They can be useful if you're in a rush and need the agency to shop for you. Wholesalers buy from the consolidators and sell to the agencies. There's an extra markup.

And, be careful of so-called "briefcase shops." They look for a ticket for you and may require a deposit in advance to do the looking. To distinguish a "briefcase" from a consolidator, ask for details of the flight. "Briefcases" won't be able to give you a flight number.

Look for creative booking strategies
If you like puzzles, you can book that $79 round trip special from New York to Miami, then fly to the Bahamas for another $90. The round trip from New York is about $600. Especially for long flights or offbeat destinations, this can work wonders.

Get off at a stop-over. Often it's cheaper to travel further. But, if your destination happens to be a stopover city, just get off the plane. The trick here is you can't have any baggage checked in. Again, airlines don't like this "hidden city" trick.

Best Fares, a discount travel publication and Web site overseen by travel discounter Tom Parsons, " are specialists in back-to-back flights, stopovers, coupon promotions and overlapping ticketing.

Consider charter airlines
Charter companies hire airplanes and fill them to the brim. It's not my favorite way to travel for several reasons.

First, takeoff times are inconvenient and planes are often delayed. Second, seats are narrow and the plane is most always full. Meals and service are often below standard airline fare, which is no compliment. Even the gate may be tough to get to.

Still, shopping never hurts. Try the consolidators above. Then try searching by destination or departure city.

Companion fares for two
Airlines often offer special "companion fares" to induce you and your significant other to choose that carrier. The fares are often based on a higher priced ticket for the first traveler, but offer significantly reduced rates for the second passenger. The sum total is less than if you bought two tickets at even a discounted rate.

The fares typically are offered during off-season periods (such as the summer when business travel is down or during non-holiday periods). Ask your travel agent to look for any possible companion fare deals; they usually won't look without being prompted.

Flying for less is not a difficult task. Just because the person next to you paid full freight to fly in a crowded coach section of a cross-continent flight doesn't mean you have to share in that experience.